Momentous Day the Chamber has Arrived
Mon, 17 Oct 2022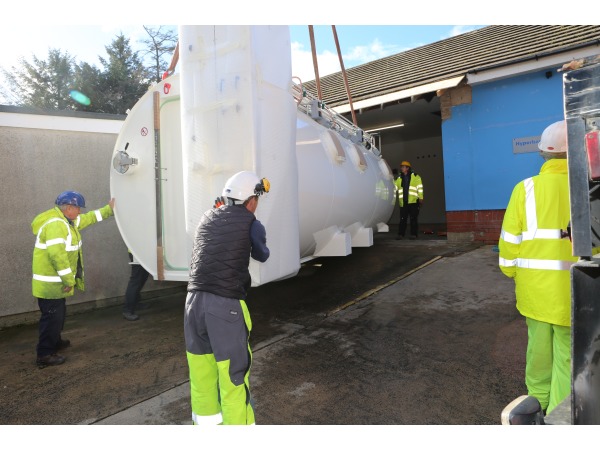 The new hyperbaric chamber which was ordered last year, has arrived on the Island. The chamber was transported from Germany and then lifted by Isle of Man Heavy Crane Services Ltd into its facility on Peel Road in Douglas last week.
In addition to the chamber there were other items of large equipment delivered. These will all be installed and are required for the chamber.
The Secretary of the charity and project manager Debbie Barron said, " We are delighted to receive this valuable asset on behalf of those many people who have donated or raised the funds to support this project over the years. I would also like to take this opportunity to publicly thank Aileen and Steve Broad from IOM Heavy Crane Services for their skills and precision while manoeuvring the chamber into position, and not forgetting the wonderful team of volunteers who all played a valuable part in assisting the charity. They all worked together to achieve multiple goals in 3 days with the end result of being able to move the project on to the next important phase. Our grateful thanks must also go to the Isle of Man Fire and Rescue Service for their patience and assistance in taking delivery".
Facility manager at the Hyperbaric chamber John Houghton said, " This chamber is " state of the art" and will benefit our island residents for many decades to come . The delivery of the chamber is a truly momentous day in the history of this new charity". Having said that, there will now be a period of time required to carry out all necessary rebuilding works at the premises, which include the front of the building together with a modern control room for the operation of the chamber. Following this, other utility service provisions will be needed leading to the eventual return of the engineers from Haux the manufactures, to come to the island for a period of three weeks to install and commission the chamber. The target date for their arrival is late April .
I would like to thank everyone for offering their time and their continued support"
The charity, HBOT IOM has ramped up its appeal for more funding to see the facility open its doors to patients as soon as practically possible in late 2023. Funds raised now will be used for the Service Provision which includes everything needed such as medical gases, and equipment, and for all of the training the professional staff needed to operate the facility.
If you would like to donate to this worthy cause you can do so by sending a cheque made payable to HBOT IOM C/o Hyperbaric Medicine Facility, Scholl Building, Peel Road, Douglas, Isle of Man. IM1 5ED or see our Paypal tab on our website www.hbot.im or telephone 626394.
Photograph attached is accredited to Mr Colin Jackson
---