Vacancies & Volunteering
STAFF & VOLUNTEERS
We intend to offer a 24-hour emergency service along with routine treatments in late 2024. For this we require a wide variety of skills and flexibility of our staff and volunteers.
We are aware that people will potentially come from all sorts of backgrounds along with different levels of experience with the medical knowledge (nurses, divers, technicians, fire, ambulance, students) and bring with them a broad spectrum of skill sets.
We are looking for doctors, nurses, chamber operators,technical engineers, divers. We will be forming a unique, dynamic team who will be committed to providing the highest levels of patient care and administration of Hyperbairc Oxygen Therapy Medicine. They must be willing to undertake both local, UK and maybe International training courses.
HBOT IOM is a charity (non profit) that will provide a medicine service here on the Island from public donation. That will be reliant on willing volunteers to assist us reach our goals both with everyday matters, fundraising and future plans. We will be grateful to them for the skills and commitment that they will also contribute to this team.

If you are interested in becoming a member of our team or volunteering please contact us for a chat to us about your individual skills and experience that you could contribute on 626394 or email hbotiomltd@gmail.com.
Ever considered a career in medicine and healthcare combined with diving?
If you are interested the Isle of Man is a perfect location for you.
We are currently recruiting the following vacant positions.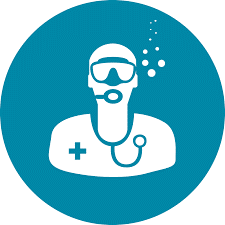 Diving Medicine Physician
Hyperbaric Medicine Physician
Diver Medic Technician
Are you already registered with the GMC and looking for another field of medicine to add to your personal development and career?
If you are, there are training programmes you may like further details on along with course dates available in 2024.
Please click the links below or contact us at the chamber.
Do you have a time to spare and could spare a few hours per day or maybe coordinate a fundraising event then we would appreciate your help.
Volunteers for Patients Assistance and Fund Raising Activities Required
Please contact the Facility & Operations Manager for more details on any of our vacancies or volunteering.
Tel: 0044 (0) 1624 626394