Merchandise
BEAUTIFUL LAPEL PIN IS AVAILABLE ONCE AGAIN.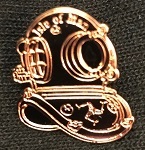 Would you like to be a proud supporter of the Hyperbaric Medicine Facility and support the campaign and be the wearer of one of these gorgeous lapel pins. Funds raised from the sale of this beautiful pin will be going towards the purchase of a new chamber. Now available £5.00 each.
Pop into the chamber or contact Debbie directly and thank you of helping us improve lives by helping people get better faster.
Anyone who can sell some for us to divers, motorcyclists, sports persons and residents of the Isle of Man please also call in the facility.
Available from: Debbie Barron, Hyperbaric Chamber, Legion Club Douglas, Castlecutz Castletown.
Payments: Cash or cheque please.
Please make cheques payable to "HBOT IOM" C/o Debbie Barron, Hyperbaric Medical Facility, Scholl Building, Fire Headquarters, Peel Road, Douglas, Isle of Man. IM1 5ED
Postal from IOM to IOM and UK addresses please allow
£2.00 for 1 Badge and £2.50 for 2-3.
Republic of Ireland and Europe £2.50 for 1 or £5.00 for 2-3.
World Wide £4.00 for 1
In order for us to raise funds for the return of service we need your help to make this happen.